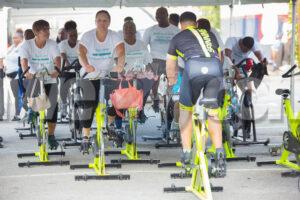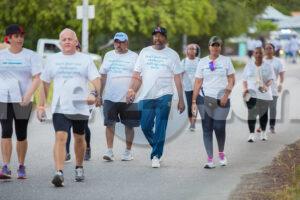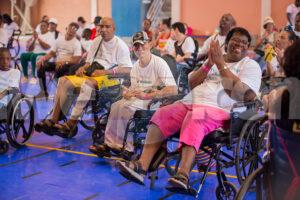 WILLEMSTAD, E aña aki, despues di dos aña,Fundashon  Alton Paas lo organisá e di 8 edishon di The Annual Fitness Challenge. E evento di fitness maratoniko ku ta trese diferente hende di diferente abilidat huntu pa move, pasa bon i alabes rekoudá fondo pa sigui brinda ehersisio i servisio pa esnan ku ta paralisá òf ta move ku difikultat.
The Annual Fitness Challenge no ta un evento deskonosi. Ya pa algun aña Fundashon Alton Paas a bin ta organisá esaki ku diferente kolaborador i sponsornan. Esaki a bin ta krese tambe saliendo for di un area di moveshon bai na 3 area di moveshon ku ta konsistí di kaminata, spinning i e diferente seshonnan di fitness. Un persona por kumpra karchi pa partisipá òf forma grupo tambe pa partisipá na spinning.
The Annual Fitness Challenge a bin karga e moveshon di inklushon dor ku na e evento bo ta haña hende ku diferente abilidat ta partisipá huntu na e diferente seshonnan di fitness. Bo por ta riba un spinbike i bo ta mira un personaden ròlstul ku ta hasi spinning na un handcycle banda di bo. Bo por ta kanando den kaminata i topa otro hende ku tambe ta pushá un persona den ròlstul pasando e mesun distansia ku bo. Bo por ta hasiendo un seshon di fitness i banda di bo,bo ta haña un persona sinta riba un stul òf den un ròlstul ta partisipá ku mesun animo ku bo. E momentu ei ta kambiábo persepshon kompletu di loke bo tabata pensa di hende ku desabilidat. Bo ta kuminsá mira kuantu kos e hende por maske ku e por tin un desabilidat.
Tur esaki ta den kuadro di e vishon di Fundashon Alton Paas pa trese konsientisashon i tambe yega na fondonan ku lo bai sirbi pa sigui ku e trabounan pa mehorá e kalidat di bida di personanan ku un dwarslaesie òf otro situashonnan neurologiko. Trabounan manera yuda kubri seshonnan di ehersisio pa personanan ku no ta logra kubri e gastu ful, yuda mas hende den rolstul haña transporte mas fasil pa sali foi kas i hopi mas.
Pa abo ku ta kere den e vishon aki òf simplemente kier move pa bo kondishon, reservá e fecha 12 di mart i keda pendiente pa informashon ya abo tambe por partisipá den e proksimó Annual Fitness Challenge 2023.