Cu masha placer y orguyo Aruba Airport Authority N.V. (AAA) ta anuncia cu Wingo, un aerolinea masha reconoci pa su bon prijsnan, a lansa un ruta nobo, conectando Cali cu Aruba. E evento inaugural a tuma luga diaranson dia 5 di juli y esaki no ta solamente un logro pa Aeropuerto di Aruba y Wingo, pero tambe ta sirbi pa impulsa y mehora turismo ainda mas y fomenta e conexionnan cu e comunidad local na ambos destinacion.
E celebracion a cuminsa na momento cu e pasaheronan a baha fo'i avion for di e vuelo di yegada caminda nan a ricibi un caluroso bonbini for di e team di Aeropuerto di Aruba mientras e bailarinnan local tabata baila riba ritmo di Carnaval pa entretene nan. E ceremonia inaugural oficial di e evento a tuma luga den e sala VIP di aeropuerto, caminda diferente minister, ehecutivo di aviacion y invitado a asisti.
Entre e distinguido invitadonan tabata presente Minister di Turismo y Salud Publico, Dangui Oduber, Jorge Jimenez, Sales and Distribution Director of Wingo, Ronella Croes CEO di ATA y Joost Meijs kende ta CEO di Aruba Airport Authority. E evento a termina cu e cortamento di cinta tradicional y un cortamento di bolo cu ta simbolisa e inicio oficial di e operacionnan di e ruta nobo aki.
Inicialmente a anuncia e ruta den luna di maarti di e aña aki como un servicio pa e temporada di zomer pero debi na e cantidad positivo di reservacion, a yega na un acuerdo pa extende e servicio te cu high season incluyendo e lunanan di december di aña 2023 y januari di aña 2024.
Cali ta e di tres ciudad di e aerolinea aki, mirando cu nan ta dunando servicio na e ruta di Bogota, Medellin y awo Cali. E ruta directo y nobo aki ta conta cu un capacidad di 1.500 asiento adicional y ta brinda e pasaheronan mas conectividad den Colombia y Latino America cu Wingo. Ademas na e atributonan remarcabel, Aruba ta sobresali como un destino internacional exclusivo cu tabata testigo di un aumento substancial di e frecuencia durante aña 2023.
Loke Aeropuerto ta bisa
Joost Meijs, CEO di Aeropuerto di Aruba, a expresa su alegria pa celebra e ruta nobo direct desde Cali pa Aruba. "Wingo ta un socio importante y valioso pa aeropuerto y nos ta hopi contento cu e servicio adicional desde Cali. Aviacion tin un rol importante pa economia di Aruba y Aeropuerto di Aruba ta continua cu su compromiso pa sigui busca oportunidad nobo pa expande su red y brinda e biaheronan servicio diversifica y emocionante como oportunidad di
biahe. E asociacion andando cu Wingo ta demostra e compromiso di aeropuerto y e fortalecemento di e conexionnan aereo entre Aruba y Colombia", asina Meijs a duna di conoce.
Loke Wingo ta bisa
Jorge Jimenez, director comercial y planificacion di Wingo a menciona cu: "Wingo ta continua cu e proceso di expansion pa sigui ofrece na e Colombianonan y e Arubianonan mas oferta na bon prijs. Nos ta hopi contento di ofrece e Caleñonan e posibilidad di por ta solamente dos ora leu di un di e luganan mas atractivo den Caribe como tambe ofrece e Arubianonan di por yega un di e ciudadnan mas atractivo di Colombia."
Detaye di vuelo
Lo opera e ruta nobo aki di Cali-Aruba dos biaha pa siman riba diaranson y diasabra y lo ta bulando cu un avion modelo B737-800 cu tin un capacidad di 189 asiento. Ticket ta obtenibel a traves di e website di Wingo, www.wingo.com of tambe ta posibel pa book via bo agencia di biahe di confiansa.
Tocante Cali
Cali ta net dos ora leu for di Aruba. Mayoria biaha ta referi na e ciudad aki como e "Capital Mundial de la Salsa" pero tambe ta conoci pa su cultura vibrante, rico den historia y un ambiente energetico. E ciudad su ambiente y su hendenan amabel ta haci cu Cali ta un destinacion excitante pa e biaheronan.
Tocante Wingo
A funda Aero República S.A., cu ta opera bou di e nomber comercial Wingo, desde 19 di october 2016. E compania ta pertenece na Copa Holdings. El a cuminsa bula pa Aruba na december 2016 como e prome Low-Cost Carrier pa sirbi Aruba for di Colombia. Brindando mercadonan local y di placer tarifa abou, bon ambiente y hopi flexibilidad. Separa di Aruba, ta bon pa bisa cu Wingo ta bula tambe pa ciudadnan Colombiano, manera Armenia, Barranquilla, Bogota, Cali, Cartagena, Medellin, San Andres y Santa Marta. Ta bula vuelonan regular pa Costa Rica, Cuba, Corsou, Republica Dominicana, Ecuador, Guatemala, Mexico, Panama y Peru.
Wingo a cuminsa bula avionnan 737-700 pero dos aña pasa a cambia tur nan avionnan. Awendia nan ta bula avionnan marca Boeing, modelo 737-800. Nan tin ocho di e avionnan aki, cu ta carga no menos di 189 pasahero.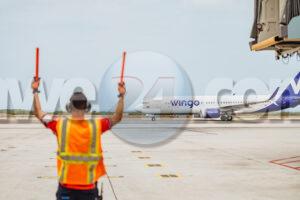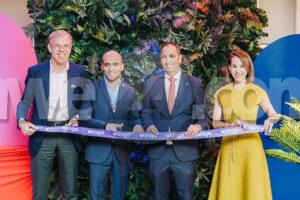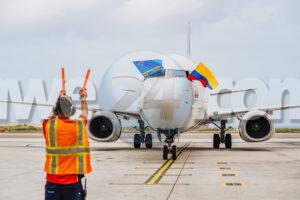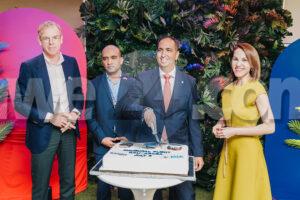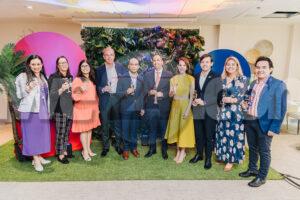 Aruba Airport celebrates Wingo's New Route from Cali, Colombia to Aruba
ORANJESTAD – Aruba Airport Authority N.V. (AAA) is thrilled to announce that Wingo, a renowned low-cost carrier, launched its highly anticipated new route that connects Cali, Colombia (CLO) to Aruba.
The inaugural event, which took place on July 5th, 2023, not only represented a significant milestone for Aruba Airport and Wingo, but also served as a catalyst for further enhancing tourism and nurturing connections with the local community in both destinations.
The festivities started with the disembarking passengers on the arriving flight receiving a warm welcome by the Aruba Airport team while being entertained by local carnival dancers.
The official inaugural event ceremony was held in the AAA Arrival VIP room, attended by government officials, aviation executives, and esteemed guests. Among the distinguished attendees were Aruba's Minister of Tourism & Public Health, Mr. Danguillaume Oduber, Mr. Jorge Jimenez, Sales and Distribution Director of Wingo, Ms. Ronella Croes, CEO ATA, and Mr. Joost Meijs, CEO AAA. The event concluded with the traditional ribbon and cake-cutting ceremony, symbolizing the official commencement of operations on this new route.
The new route was initially announced in March 2023 as a summer season service but due to positive forward bookings, it has been agreed to extend this service up until the high season including the months of December 2023 and January 2024. Cali marks the carrier's third city in Colombia, servicing the Bogota, Medellin, and now also the Cali route. The new direct route would provide an additional seat capacity of approximately 1,500 seats and provide travelers with more connectivity within Colombia and Latin America with Wingo. In addition to the remarkable attributes, Aruba distinguishes itself as the exclusive international destination that witnessed a substantial surge in frequency during the year 2023.
Mr. Joost Meijs, CEO of Aruba Airport, expressed his delight to be celebrating the new direct route from Cali, Colombia to Aruba. "Wingo is an important and valuable partner for Aruba Airport, and we are very happy with this new, additional service out of Cali, Colombia. Aviation plays a vital role in Aruba's economy and Aruba Airport remains committed to continuously seek new opportunities to expand its network and provide travelers with diverse and exciting travel opportunities. The ongoing partnership with Wingo reflects the Airport's commitment in the strengthening of air travel connections between Aruba and Colombia."
Mr. Jorge Jiménez, Commercial and Planning Director of Wingo: "From Wingo we continue with our expansion process to continue offering Colombians and Arubans more offer at low cost.
We are very pleased to offer the possibility of being just two hours from one of the most attractive destinations in the Caribbean for the people of Cali, as well as one of the most attractive cities in Colombia for the Arubans".
Flight details
The new Cali-Aruba route will operate twice a week on Wednesdays and Saturdays and will be serviced by a B737-800 aircraft with 189 seats. Tickets are available to book via Wingo's website