ORANJESTAD – Diahuebs dia 1 di juni ultimo, e Crisis Management di Aruba Airport Authority N.V. (AAA) hunto cu e departamentonan di gobierno a tene un Tabletop exercise na Bureau Rampen Bestrijding (BRA). Den esaki un parti clave di e personal asigna cu rol y responsabilidad di maneho a reuni pa discuti den un non-threatening environment, un emergencia simula den un standby local cu na momento di aterisahe ta bira un crash landing.
International Civil Aviation Organization (ICAO) ta rekeri pa tur aeropuerto realisa Full-scale- (FSEE) y Tabletop exercises (TTEX) pa garantisa un respuesta adecua for di tur personal, plan y procedimento di emergencia, ekipo di emergencia y comunicacion. E ehercicionan di gran escala ta tuma luga un biaha cada dos aña y e Tabletop exercises ta un tipo di ehercicio cu ta rekeri unicamente un sala di reunion, un mapa di gran escala di e aerodrome di aeropuerto y un representante di cada unidad cu ta participa y un agencia presente.
Durante e ehercicio ta selecciona un area di accidente den e mapa aerodrome di aeropuerto y cada participante tin cu describi cua accion nan unidad of agencia lo tuma pa responde. E ehercicio por revela e problemanan manera frecuencia di comunicacion, falta di ekipo, terminologia confuso y area di hurisdiccion.
Durante e ehercicio tabletop di e aña aki, AAA a enfoca den e revision di e conclusionnan durante e ultimo evaluacion di e FSEE organisa na november aña pasa. Ademas, a revisa demas tarea principal cu no ta limita na e apoyo proporciona na e logisticanan di e departamentonan gubertamental den e instalacionnan di aeropuerto, escolta e autonan gubernamental riba airside, coordinacion di transporte di bus na e sitio di accidente y na e centro medico, resposabilidad di siguridad y apoyo na Cuerpo Policial di Aruba, e debernan di e ekipo di emergencia, controla e multidud den e landside area, crea e cordon na e area di accidente y alabes mantene e area sigur, evalua e dañonan na e instalacionan airside y un plan di accion pa recupera tur e instalacionnan pa habri e operacionnan di avion manera cu Department of Civil Aviation (DCA) caba cu su investigacionnan.
DCA a observa y duna su critica na e TTEX pa asina garantisa cumplimento di e responsabilidadnan asigna. AAA y e departamentonan gubernamental mester presenta un secuencia di informe di evento como parti di e evaluacion final di TTEX.
AAA ta gradici tur e agencianan envolvi pa nan participacion den e tipo di ehercicio aki cu ta sumamente importante pa asina garantisa cu tur e agencianan ta debidamente informa, capacita, prepara y comprometi cu nan respectivo responsabilidad den caso di un emergencia na Aeropuerto di Aruba.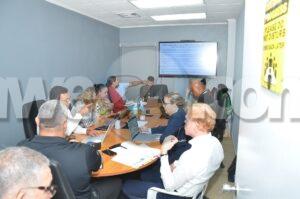 AAA participates in Tabletop Exercise with BRA
ORANJESTAD – Oranjestad – Aruba Airport Authority N.V.'s Crisis Management Team together with government agencies held a Tabletop exercise at Bureau Rampen Bestrijding (BRA) on Thursday June 1, 2023, in which key personnel assigned emergency management roles and responsibilities gathered to discuss, in a non-threatening environment, a simulated emergency situation of a local standby which upon landing escalates to a crash landing.
International Civil Aviation Organization (ICAO) requires all airports to conduct airport emergency exercises including Full-scale- (FSEE), and Tabletop exercises (TTEX) to ensure the adequacy of response of all personnel, emergency plans and procedures, and emergency equipment and communications. Full-scale exercises are held once every two years and Tabletop exercises are held at least once every year. Tabletop exercises is a type of drill, requiring only a meeting room, a large-scale map of the airport aerodrome, and a representative of each participating unit and agency in attendance. During the exercise, an accident location is selected on the airport aerodrome map and each participant describes what actions their unit and/or agency would take to respond. The exercise can reveal operational problems such as communications frequencies, lack of equipment, confusing terminology, and areas of jurisdiction.
In this year's Tabletop exercise, AAA focused on review of findings during the last evaluation of the FSEE held last November in 2022 and on a few main tasks but not limited to support provided to government agencies mainly logistics within the airport premises, escort of government vehicles on the airside, coordination of bus transport to crash site and to medical center, security responsibilities and support to the Aruba Police force, Emergency Team duties, crowd control on the Landside area, cordon of crash site and keeping the area secure, assessment of damages to Airside facilities, and action plan to recover all facilities to open for aircraft operations as soon as the Department of Civil Aviation (DCA) has finalized investigations. The TTEX was observed and critiqued by the DCA to ensure compliance of the assigned responsibilities. AAA and government agencies shall submit a sequence of events report as part of the final TTEX evaluation.
AAA would like to thank all agencies involved for their participation in these types of exercises that are extremely important to ensure all agencies are duly informed, trained, prepared and committed to their respective roles and responsibilities in case of an emergency situation at the Airport of Aruba.